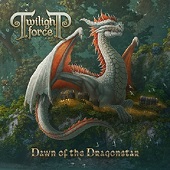 아티스트 : TWILIGHT FORCE


타이틀 : Dawn Of The Dragonstar


장 르 : Symphonic Metal

트랙리스트 :
01. Dawn Of The Dragonstar
02. Thundersword
03. Long Live The King
04. With The Light Of A Thousand Suns
05. Winds Of Wisdom
06. Queen Of Eternity
07. Valley Of The Vale
08. Hydra
09. Night Of Winterlight
10. Blade Of Immortal Steel
11. The Power Of The Ancient Force (Hanna Turi Version)– Bonus Track
12. With The Light Of A Thousand Suns (Orchestral Version)– Bonus Track
13. Enchanted Dragon Of Wisdom (2007 Demo) - Bonus Track
14. Forest Of Destiny (2007 Demo)– Bonus Track
음반소개 : Luca Turilli's RHAPSODY, Trick Or Treat의 보컬리스트였던 Alessandro Conti를 새롭게 영입한 스웨덴 출신 에픽심포닉 메탈 밴드 TWILIGHT FORCE의 3번째 스튜디오 앨범이자 2019년 최신작 [Dawn Of The Dragonstar]!

★ 화려한 오케스트레이션, 서정적인 멜로디, 그리고 장엄하며 드라마틱한 사운드가 극대화되어 에픽심포닉 메탈의 진수를 보여주고 있는 화제의 작품!
★ 첫 싱글로커트되어 좋은 반응을 얻고 있는 'Night Of Winterlight' 등 총 14곡수록
★ 보너스트랙 4곡 추가 수록!